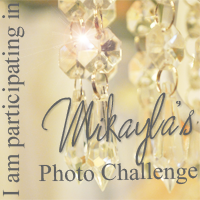 Hey guys,
Ok so I logged into my account a little while ago to find a friendly comment from a girl named Mikayla telling me of a photo challenge she was hosting and gave me the URL so I could link up if I was interested. I was like "sure" and I went over to her blog. It looked nice and I was interested in joining some kind of photo challenge. I looked at what the topic was and it happened to be something very simple but, I knew the exact photo to link up with. The topic is "Something You Love" and what do I love? Well, my little puppy Charlotte of course. So, here is my photo for the photo challenge :D
Thank you very much Mikayla for letting me know about your photo challenge and I hope that you'll come back to my blog and perhaps follow it. I would love for you to be a part of my blog! :D
If any of you guys are interested in joining Mikayla's photo challenge just click on my button at the top of this post!
You guys only have until April 1st to contact me for your prize if you won something in my giveaway or I will have to chose new winners.
Thanks guys!!! :D